Pardavimų mokymai: kaip parduoti daugiau?
Šiame mokymų pakete rasite šešis didžiulę patirtį sukaupusios profesionalės mokymus apie tai, kaip gerokai patobulinti savo pardavimo įgūdžius. 6 valandos mokymų apima pardavimo psichologiją, emocinės kompetencijos svarbą, kliento poreikio formavimą, vertės komunikaciją bei sėkmingo pardavimo elementus.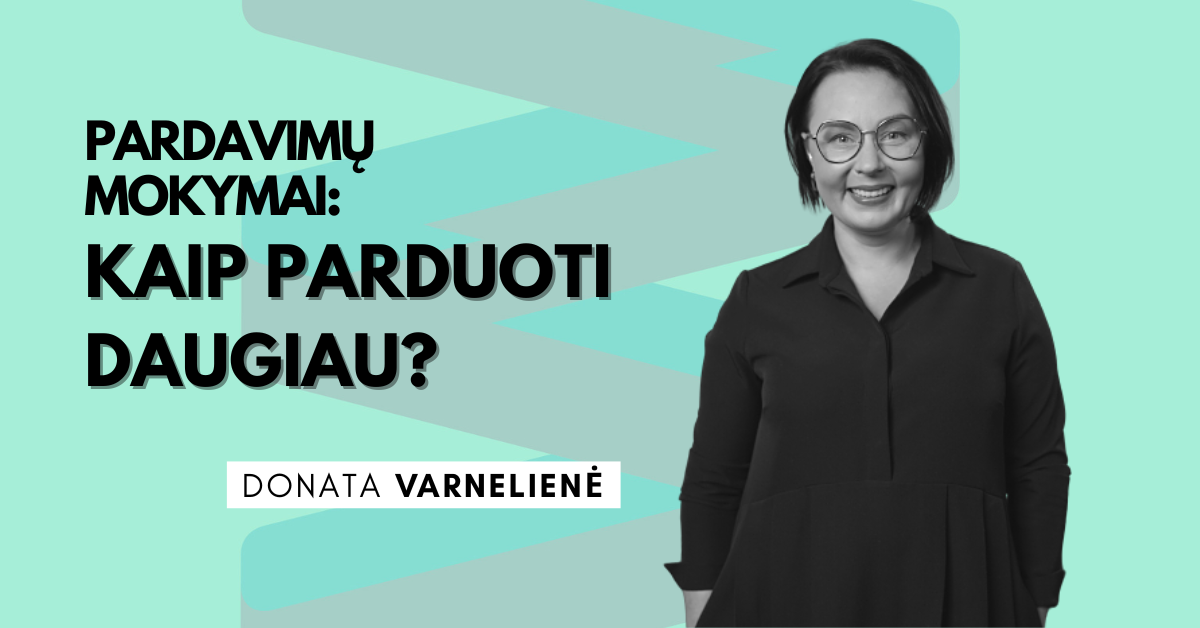 NET 6 paskaitos, padėsiančios jums tapti pardavimo žinovu
JEI NENORITE PRENUMERUOTI VISO GO FORWARD ACADEMY TURINIO - GALITE ĮSIGYTI TIK ŠĮ KURSĄ.
Tiesioginis mokymas
Toksiškas pozityvumas: kaip jo išvengti ir susitvarkyti su neigiamomis emocijomis?
"Toksiškas pozityvumas" – tai pasirinkimas ieškoti tik teigiamų dalykų ir atmetimas visų kitų jausmų ir emocijų. Evoliuciškai mes, žmonės, negalime užprogramuoti savęs jaustis tik laimingais. Sunkių emocijų priėmimas mums padeda susitvarkyti su jomis ir sumažinti šių emocijų intensyvumą. Emocijos nėra "geros" ar "blogos", visos teigiamos ar neigiamos. Jos padeda mums suprasti dalykus. Jei liūdite dėl konflikto su kolega, tai tikriausiai reiškia, kad patirtis buvo prasminga. Niekas negali būti saulės spinduliu 24/7, žmonės sukurti kitaip. Dėmesys ir emocijų atpažinimas, jų visokių priėmimas gali padėti priimti realybę, geriau suprasti save ir aplinkinius. Seminare išmoksite atskirti ir įvertinti savo emocijas, suprasti ir geriau susitvarkyti su neigiamomis emocijomis.
NAUJIENA! Anglų kalba
Feedback: transforming personal and organisational growth
You may have come across various tricky situations at work when your message to a colleague was not received at all as you expected or you yourself heard something from the manager, something that made you angry, ruined the motivation for a long time. Feedback is an extremely valuable tool in the organization, as long as it is used properly. Renata Šumskaitė, who has accumulated a lot of experience in organizations, in this training reveals how to create and enable a culture of feedback, how to provide feedback, how to accept it, and how to use it for growth.
Networking: kaip auginti vertingų ryšių tinklą
Tikriausiai esate girdėję knygų autoriaus Tim Sanders posakį "Your network is your net worth". Kaip ir bet kuri kita investicija, networking'as reikalauja laiko, dėmesio ir tikslingų pastangų. Bet rezultatas – apdovanojantis. Tą patvirtina daug sėkmingų profesionalų. Tik kodėl daugelis vis dar drovisi ar "tingi" užkalbinti nepažįstamąjį? Kokios priežastys tai lemia ir kaip kurti naujus įpročius? Kaip įsivertinti ir auginti savo tinklą? Kurti platų ar mažesnį, bet daugiau dėmesio gaunanti ratą? Kaip savo kontaktų tinklą įgalinti padėti siekiant savo tikslų ir kaip už tai atsidėkoti? Savo mokymuose K. Stankutė-Jaščemskienė dalijasi networkingo principais bei net konkrečiomis frazėmis, kurios bus puiki atspirtis išdrįsti plėsti savo pažinčių ratą.
Kotryna Stankutė-Jaščemskienė
Copyright © 2022 Go Forward Academy